This section will take you thrgouh basic of use of the TimeMaker application.
List of quick help chapters:
) Installation
) Adding database and login
) Overview
) Create new message/e-mail
) Create, move and complete production task
) Basic user administration
1. ) Installation
2. ) Adding database and login
3. ) Overview
In the following screenshot is TimeMaker divided into 8 sections.
Each section represents set of menus, buttons and texts, here is the short explanation what you can do in each section.  Click the image to enlarge.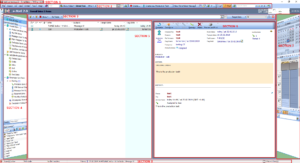 If you want to more know about exact function, push the "i" button next to desired function/button/menu.