Folder Content Information
A bundle of pending and completed Production Items and TimeMaker Messages. TimeMaker Sent Items include:
Pending – all Action Items assigned by you to others and TimeMaker Messages you have sent to others.
Production Items Assigned by Me – sub folders created per the Performer of the Production Items you have assigned.
Messages Sent by Me – All the TimeMaker Messages you have sent that have not been closed by the recipient.
Completed – All Completed Production Items and closed TimeMaker Messages (Completions).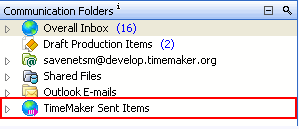 Associated Subfolders
Pending Production Items, TimeMaker Messages, Completions